Patrick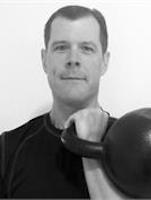 After living in the valley for over 20 years, PK has incorporated fitness into his everyday lifestyle. As a father of two continuously evolving young boys, you can find his family out and about enjoying all that Jackson has to offer both summer and winter. With support from his background in Communication at the University of Colorado, along with additional training in Health Sciences/Sports Medicine at the University of Wyoming, PK prides himself on the focus he commits to form, hands on adjustments and effective cueing through a constructive yet supportive teaching tone. As a certified SFG1 Strongfirst Kettle bell Instructor, PK loves to share his passion for the dynamics of Kettle bell to the fitness community of Jackson.
Patrick instructs the following:
*Please cancel your reservation for this class offering 12 hours before it begins. Failure to do so will result in a $10 late cancelation fee*

Kettle Bell is one of the most powerful tools to improve your fitness. Because of its unique design and offset center of gravity, the kettle bell helps achieve proper full body training through dynamic force. Outcomes include strength, endurance, stamina, structural integrity, joint strength and mobility, lean muscle mass and fat reduction. The flexibility of the training model is good for individuals of all fitness levels.