Danielle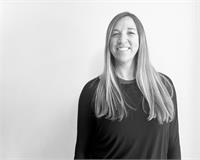 Danielle was raised in the mountains of Colorado and is now deeply impassioned and invested in the Teton community lifestyle. With Masters degrees in Psychology and Business/Health Administration, her education and previous experiences have prepared her greatly for the amazing cultivation of interests that is Pursue Movement Studio. Her daily mission is to cull the best, most versatile, and most effective methods of health and wellness for her guests. When not awesomizing Pursue she is varying her geography with family and friends.
Danielle instructs the following:



This class is broken into four stations equaling 50 minutes to an hour of whole body training. The sequence encompasses metabolic endurance training and enhanced, "real-life" movement skills to increase metabolic rate and caloric expenditure. Spend half the workout training your metabolic endurance with cycle and row intervals. Spend the other half in exercises on the suspension bands and floor to improve strength and body movement.




Utilizing props such as the ballet bar and light weights in a carpeted room (don't forget your socks!) expect a sequence including a high paced warm-up, arm work with light weights to tone and define, leg work at the bar for 360 degree sculpting and core exercises to flatten the abs. Sculpt your arms, flatten your abs, lift your seat and firm your legs with these non-impact, dynamic exercises which target and overload each muscle group.




One of the more rigorous flow practices offered, this vibrant series will incorporate a breath to movement sequence, a challenging core set to build internal fire, a sculpting series that includes light resistance training and a cool down to enhance mobility. Expect to sculpt, hone and tone every muscle in the body; this practice includes various elements of many different disciplines. Classes are diverse and sequencing will vary with instructor philosophy.